The bacterium Mycobacterium tuberculosis, the agent of human tuberculosis, has developed different strategies to attenuate the immune response developed during the infection and thus ensure an efficient colonization of the host organism. In a study published in the journal Science Advances, scientists of IPBS and UCLouvain, Belgium, show that the surface of this pathogen is covered with carbohydrate molecules that organize themselves into nano-domains and thus allow an efficient recognition by a receptor present on immune cells, called DC-SIGN, which promotes an immunosuppressive response.
The pathogenic bacterium Mycobacterium tuberculosis binds DC-SIGN, a receptor expressed on the surface of dendritic cells and specialized in the recognition of carbohydrate molecules, and thereby induces an immune response favorable to its multiplication within the body. Surprisingly, the bacterial species closest to M. tuberculosis are unable to bind DC-SIGN even though they express the same carbohydrate molecules on their surface, potential ligands of the receptor.
In this study, the scientists showed, notably through the use of a molecular imaging technique with nanometric resolution, that the carbohydrate molecules on the surface of the M. tuberculosis complex species, contrary to species of the same bacterial genus, are organized in large domains that constitute platforms of strong interaction with the DC-SIGN receptor, itself organized in clusters.
These results constitute a conceptual advance in the understanding of the functioning of receptors specialized in the recognition of carbohydrate molecules, demonstrating that the organization of ligands at the surface of microorganisms is a key parameter. Moreover, they change our perception of the surface of bacterial envelopes, by suggesting the presence of functional domains. Finally, they open the way to the development of new anti-tuberculosis approaches using immunomodulation.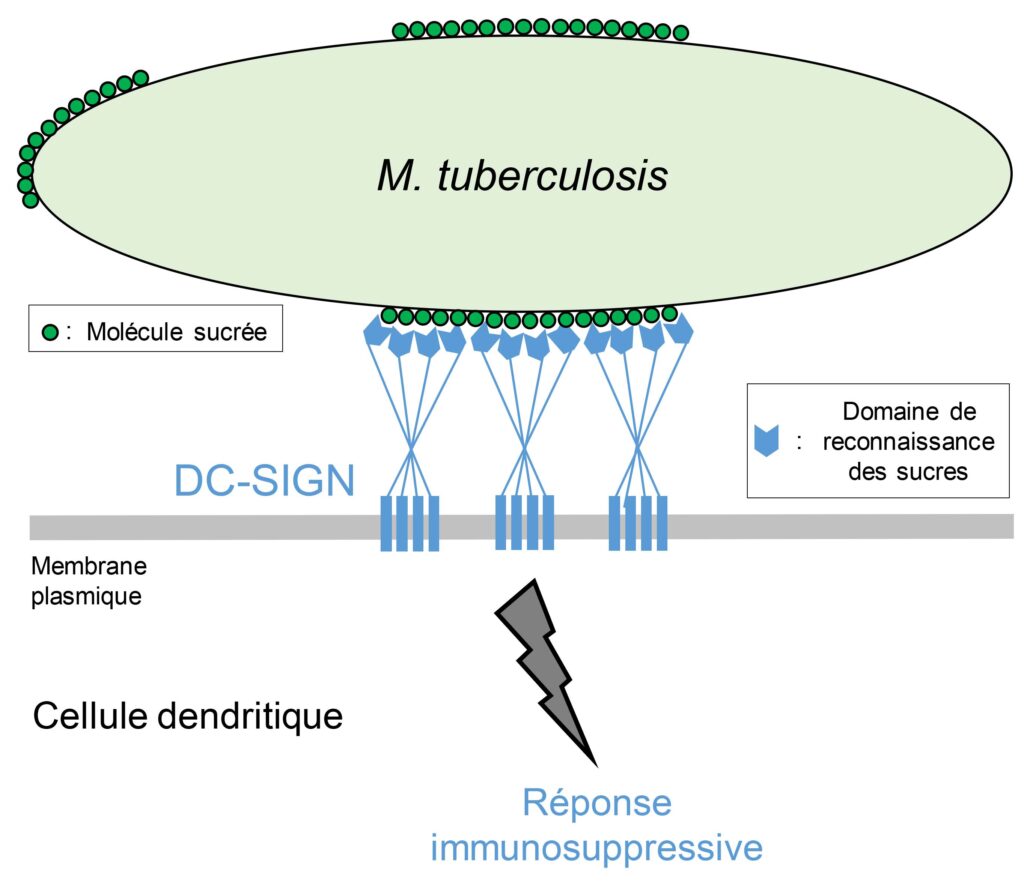 The surface of the envelope of Mycobacterium tuberculosis is covered with carbohydrate molecules that are organized in nano-domains constituting platforms of strong interaction with the DC-SIGN receptor, itself organized in clusters at the membrane of immune cells. The recognition by DC-SIGN induces an immunosuppressive response that promotes the multiplication of the pathogen within the infected organism. Copyright: Jérôme Nigou
Thumbnail Copyright: Albertus Viljoen et Yves Dufrêne
Source
Nanoscale clustering of mycobacterial ligands and DC-SIGN host receptors are key determinants for pathogen recognition.
Albertus Viljoen†, Alain Vercellone†, Myriam Chimen, Gérald Gaibelet, Serge Mazères, Jérôme Nigou* and Yves F. Dufrêne*. Science Advances, 9(20):eadf9498. DOI: 10.1126/sciadv.adf9498. † co-first authors; * co-senior authors
Contact
Jérome Nigou (Jerome.Nigou@ipbs.fr)
Press contact
Françoise Viala (communication@ipbs.fr)
The organisation of carbohydrates on the surface of Mycobacterium tuberculosis facilitates infection